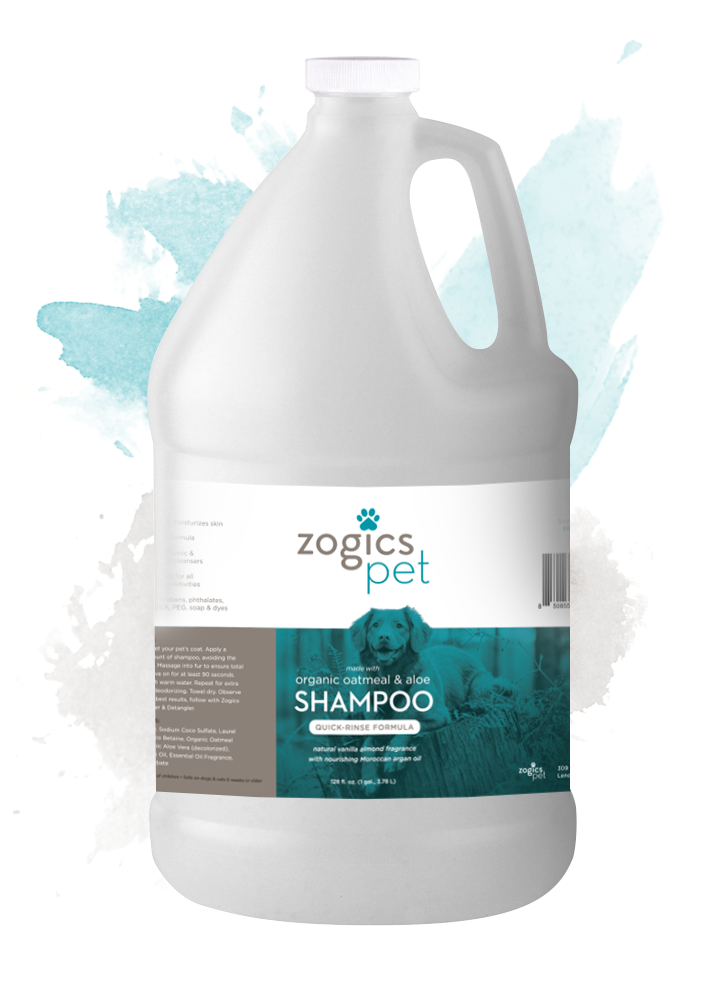 Oatmeal & Aloe Gallon Dog Shampoo
Bulk Pet Shampoo | Natural Dog Shampoo Gallon
Perfect for professional groomers, organizations that provide grooming services, and value shoppers, we developed Zogics Pet Oatmeal & Aloe Gallon Pet Shampoo to clean fur and moisturize skin without using unnatural ingredients. Instead, we use plant-based, pH-balanced cleansers, organic oatmeal and aloe, and Moroccan argan oil – all ingredients that nourish and soothe even the most sensitive skin types.
Our bulk dog shampoo gallon size lets high-traffic groomers stock up at a great price while still providing a professional quality deep cleaning bath for every pet. 

Our quick-rinse formula that won't weigh fur down or prolong bath time for pets who prefer to stay on dry land. And you'll have a pet that feels and smells great, thanks to our natural vanilla and almond extracts.

Low flat rate shipping
Great for dogs and cats 6 weeks and older
Ingredients: 

Purified Water, Sodium Coco Sulfate, Laurel Glucoside, Coco Betaine, Organic Oatmeal Extract, Organic Aloe Vera (decolorized), Organic Argan Oil, Essential Oil Fragrance, Potassium Sorbate
---
Get the entire collection for 20% off + free shipping!
Check out The Complete Grooming Box Set here 
→