Oatmeal & Aloe Waterless Dog Shampoo
Waterless Shampoo for Dogs | Waterless Shampoo for Cats
Sometimes your pet needs a quick cleaning, whether you're at home or on the go. Our soothing Oatmeal & Aloe Waterless Dog Shampoo cleans and nourishes your pet's skin and fur, all with the convenience of a no-rinse shampoo for fast, thorough results.
Made with organic oatmeal and aloe, along with plant-based cleansers and Moroccan argan oil, our waterless dog shampoo will leave your pet with fur that's clean and residue-free. And they'll smell great too, thanks to our refreshing vanilla and almond extracts.
Low flat rate shipping
Great for dogs and cats 6 weeks and older
---
Get the entire collection for 20% off + free shipping!
Check out The Complete Grooming Box Set here 
→
No-rinse formula cleans quickly & easily
Conveniently bathes with a no-rinse foaming shampoo.
Cleans & Nourishes Quickly

A foaming shampoo for a quick clean in between baths

No-Rinse Formula

Refresh your pet with a self-drying, no-rinse shampoo

Made with Plant-Based, Organic Ingredients

Organic oatmeal and aloe gently soothe & cleanse your pet

Gentle Formula That Won't Irritate Your Pet's Skin

Free of parabens, phthalates, EDTA, DEA, PEG, dyes, gluten, and soap
Specifications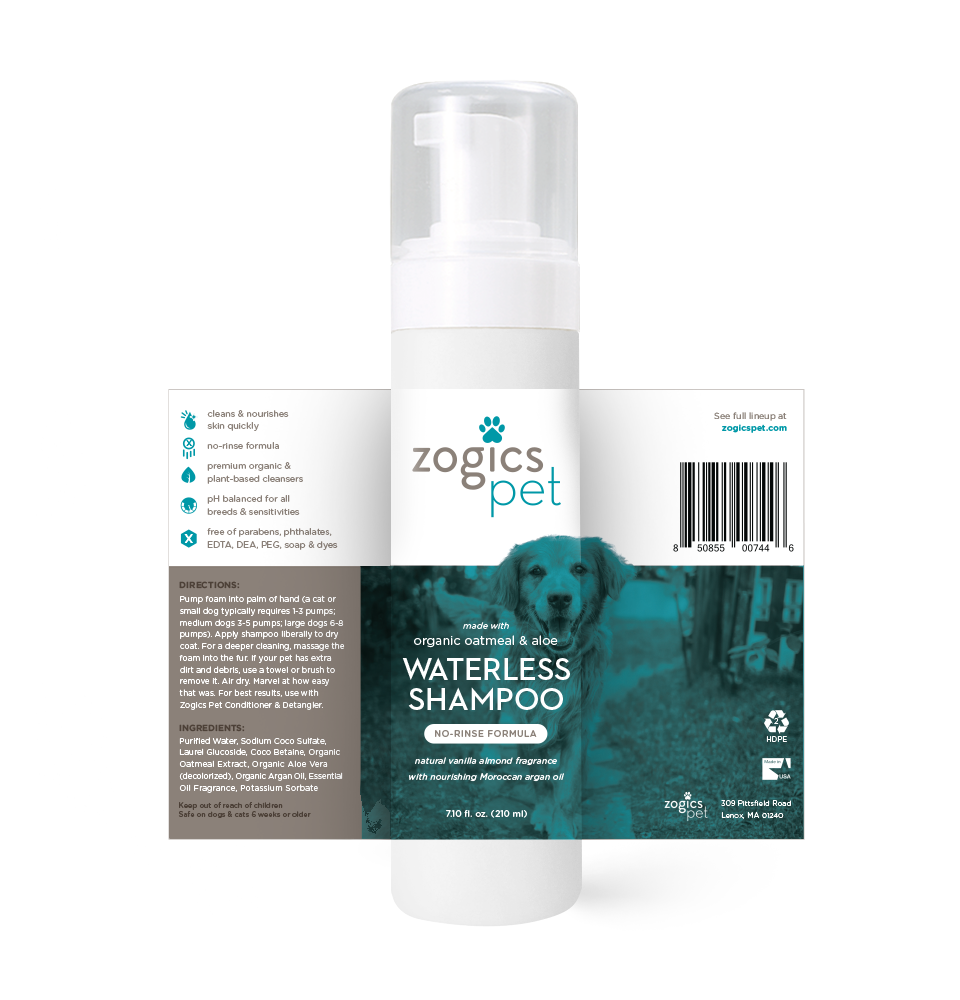 Sizes

Fragrance

Ingredients

Purified Water, Sodium Coco Sulfate, Laurel Glucoside, Coco Betaine, Organic Oatmeal Extract, Organic Aloe Vera (decolorized), Organic Argan Oil, Essential Oil Fragrance, Potassium Sorbate

Directions

Pump foam into palm of hand (a cat or small dog typically requires 1-3 pumps; medium dogs 3-5 pumps; large dogs 6-8 pumps). Apply shampoo liberally to dry coat. For a deeper cleaning, massage the foam into the fur. If your pet has extra dirt and debris, use a towel or brush to remove it. Air dry. Marvel at how easy that was. For best results, use with Zogics Pet Conditioner & Detangler.